Gutter Services from RSI-Roofing Services, Inc.
Our dedicated crew of gutter specialists makes their expertise evident on each job. Offering many years of superior protection, your new gutter system will also provide heightened curb appeal. If you intend to maintain your home's value and structural integrity, gutters are absolutely necessary. In knowing this, gutters and downspouts in poor condition often cause more problems than they solve. A properly installed, high-quality gutter system is one the most important investments you can make for your home. A new gutter system directs rainwater away from your foundation, siding, and landscaping effectively, maintaining your home's good condition.
?
---
Why Are Gutters So Important?
To preserve the condition of your home, rainwater must be diverted off of your roof and away from your home. This not only prevents structural damage but also damp interior walls and mold growth. On the average roof, just one inch of rainfall equals hundreds of gallons of water or more that need to be diverted! That's a lot. Your gutters must be in optimal working condition to handle the load.
Installation and Sizing
RSI-Roofing Services, Inc. installs shop fabricated commercial guttering in 26, 24 and 22 gauge guttering. New technologies have made seamless gutters a more affordable choice for the average customer. Seamless gutter sections are custom-cut on the job-site for a custom fit. Our residential guttering is 5? and 6? seamless. This allows the need for seams at the corners of your new gutter-system, ensuring a stronger, leak-proof product, and are always installed using oversized downspouts for better drainage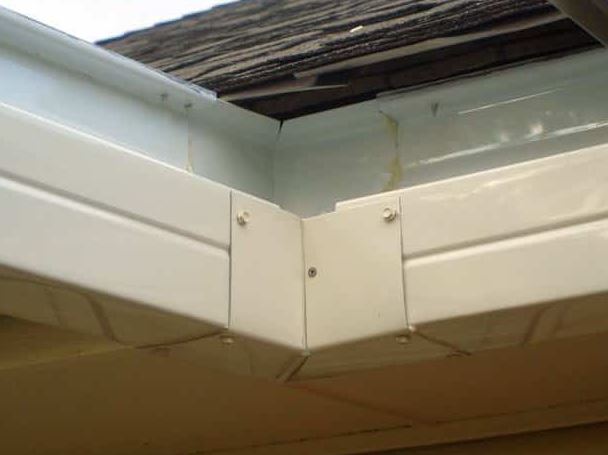 Copper Gutters
Copper gutters and especially copper half round, can really enhance the appearance of your home. They are both functional, aesthetically appealing and will last forever. Copper gutters and they can be configurated in all styles, and while the initial cost of a copper gutter system is substantially more than a ?standard? gutter job, it?s functional elegance will set your home apart and probably be the last gutter job your home will need.
Gutter Screens
Rain gutters can?t do their job if they aren?t kept clean. Leaves, pine needles, seeds and other debris can clog your gutter system. Rotten wood, leaky basements, frozen walkways and annoying drips are just a few of the problems you could face when your gutters get clogged. Installing a gutter screen is a better option. They provide peace of mind and keep you and your loved ones from risking life and limb when climbing ladders.
Screening has been around for a long time and there are two different types of gutter screens available for different types of gutter systems. Economical medium hole screens and premium high grade (Best on the market) small hole stainless screens are the two most common materials used. When we install gutter screens we always clean out your gutters.
Go Back
Drone Hail Detection Service
Our revolutionary 4k drone with a 20mp Hasselblad camera will inspect, measure and pinpoint all hail impacts and wind damage on your home or business.
This technology is piloted by a licensed drone specialist and is fantastic for large structures, churches, and steep structures.
OK license #80005432