CLAY SERIES TEXAS
Let our Lifestyle Clay Series provide products and solutions based on the natural beauty of clay and the most advanced technology. Our modern innovative designs and finishes as well as our wide array of colors will enhance and beautify any roof tile project.
MODENA
A beautiful tile! The profile shape resembles the combination of a flat Roman tile and a curved barrel tile blended in one piece. Very easy to lay and install as it is an overlapping tile that can be adjusted easily on the roof. It will project traditional aesthetics similar to a Roman styled roof that will impress a refined Italian look to any project.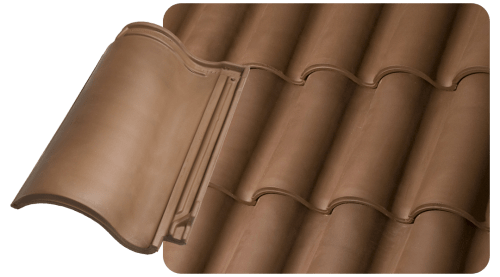 TOLEDO
A great classic! The profile resembles the shape of two curved tiles in a single element. This beautiful double interlocking clay tile is produced with a Grade 1 clay composition and high press performance that provide higher flexion rates than normal extruded tiles. Through its high barrel and varied colors and finishes it recalls the aesthetics of classical roofs that perfectly integrate into a Mediterranean landscape look.
MONACO
Modern and Unique! This elegant interlocking clay flat tile is a product of high technological advancement that has provided a great looking roof tile with superior performance and strength. Its smooth flat surface and precise square edges will create a contemporary look across the roof. This combined with its different matte and glazed colors will provide high curb appeal that will inspire breathtaking projects.

Go Back